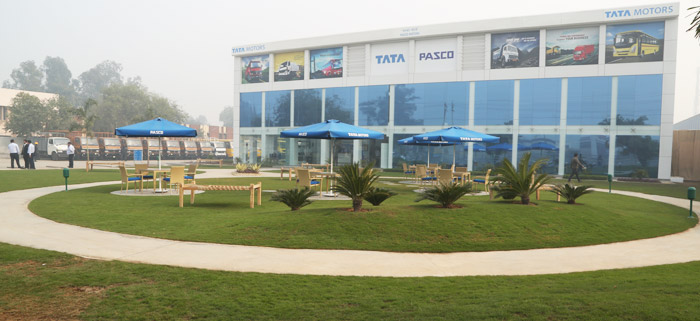 Pasco Motors started its association with Tata Motors in 1967 the first dealership opened at Chandigarh.
In the last Financial Year that is 2017-18 Pasco Group turnover was Rs. 2128 cr. We have a dedicated team of 900+ staff to provide excellent services to customers. Pasco Motors is providing world-class facilities to its customers. We have always believed that sale is not an end of relationship infect it is a beginning of a relationship. Our total service bay strength in all the 6 dealership for commercial vehicle is 116.
Chandigarh (UT) -Started in 1967
Ropar (Punjab) - Started in 2006
Dosarka (Haryana) -Started in 2008
Udaipur (Rajasthan) - Started in 2013
Gurgaon ( Haryana)- Started in 2014
Faridabad ( Haryana)- Started in 2014
Also Pasco Motors is India NO 1 Commercial Vehicle Dealer in MIPFV assessment two year in a row (Manpower, Infrastructure, Process, Finance, Value. This is a thorough study of the entire dealership covering all perimeters. Pasco Motors is headed by Mr. Sanjay Passi.
Also Pasco Motors Ropar (Punjab) was visited by Mr. Cyrus P. Mistry Chairman of Tata Motors April 2015.
Mr. Ravindra Pisharody (Executive Director- Tata Motors Commercial Vehicles) inaugurated the Gurgaon dealership. The event marked a gathering of the leadership team form Tata Motors comprising of Mr. R Ramakrishnan (Sr. Vice President Tata Motors Ltd.- CVBU), Mr. Sanjeev Garg (Global Head, Customer Care, Tata Motors Ltd.-CVBU) & Mr.
Rajesh Kaul (RM North Tata Motors Ltd.- CVBU). Leading transporters of Gurgaon and other Tata Motors dealers also joined in for the celebrations.
Mr. R Ramakrishnan (Sr. Vice President Tata Motors Ltd.- CVBU), Ingaurated the Faridabad dealership in Decemer-2014.